South Africa, a country of many extremes.

Four seasons in a day, people in all colors and the nature, ohh... from fields of gold to lush green oases as far as the eye can see. Never a dull moment here!
This country with about 55 million inhabitants unfortunately has a negative economic status, there are demonstrations against President Zuma everywhere and the fall of the Rand has its effect on everyone.
South Africa has three capitals, Pretoria, Bloemfontein and Cape Town. The last one we visited for five days and we loved it. We were not attracted to Johannesburg or Jo-burg, this city has a negative reputation, the streets are unsafe almost everywhere so we drove around it with a big bow.  
In general, larger cities in South Africa are not very safe, especially for white tourists. In the black population, even though they are extremely friendly and hospitable, there is a lot of poverty. This can lead to (violent) robberies. If you want to walk the streets at night, stay where other people are and don't go into quieter areas.
We spend 25 days in this fantastic country and just couldn't get enough of the endless beauty it has to offer.
Hakuna matata!
Cape Town is a great city where many surprises await you. Fantastic restaurants, architectural buildings, endless nature and of course the African culture!
Staying in the center of Cape Town is not cheap, we found 'the Backpack' hostel highly recommendable. 'HomeBase hostel' as a cheaper option was 'ok'. It definitely got that home-feeling, but take your earplugs with you.
On Longstreet you will find plenty of nice restaurants and cafes, each one with beautiful decor and nice terraces. For this we wanted to stay here for three months.
One of them is 'Tiger's Milk', already in our cafe top 10, great food, not too loud eighties music and tasteful decoration. 'Yours Truly', a bar / restaurant in the jungle. The ambiance: a 10+
Do not skip a visit to the Table Mountain. The panoramic view is absolutely breathtaking and of course you go hike all the way up ;-) Water and sunscreen are essential.
Once you are on top you'll soon forget the hike, because the view is unforgettable.
The Waterfront district located by the harbour is worth the walk. Watching enormous ships and great architecture.
The Bo Kaap district with it's colored houses and cool graffiti are a pleasure to see. Walk a little further then the first street where everyone is photographing...
Simon's Town is a fun town about an hour by train from Cape Town. You can walk from the train station to Boulders Beach in half an hour where there's a penguin colony waiting for you. Access to the beach costs about € 5.- per person but just before the beach there is a beach that is free. There are a little less penguins but you can meet them up close. Don't tell anyone! ;-)
We have skipped the Muizenberg beach with it's famous colored changing rooms for the more authentic St. James. Also with colored changing rooms ánd locals.
We've never felt unsafe in Cape Town, there are security guards on every corner of the street. Use your sense and your eyes. Just don't walk into dark empty streets and flash your money of expensive phone around. If it doesn't feel good, don't go there. Other than that, in the centre you'll be just fine!
Here you find our blog about Cape Town, it's in Dutch but you can use our supercool translation tool on the bottom of each page!
The Garden Route is a beautiful green area along the Southwest coast of South Africa, from Cape Town to Port Elizabeth. The infrastructure is quite good and it was fairly quiet on the road. The landscapes has interesting vegetation and changes from minute to minute.
Mosselbay
We stayed in Mosselbay for € 45.- in an apartment called 'the Cove', which was comfortable, it has a swimming pool and a very cool view over the bay. There was also a secured parking space.
A walk along the coast is delicious, from june to november whales bathe in the bay.
Other recommendations: 
The Coffee Junction, Coffeeshop
The Blue Shed, Coffee roaster
Knysna
With a quiet K say the locals right away. At first sight, not a real charming town but it has a lot to offer activity wise. 'The Heads' a viewpoint close to this town is really worth a visit!
We've stayed in Knysna for 2 nights in 'The Cape Days' apartment for € 35.- per night which was excellent. We had a fully equipped apartment with a balcony and a secured parking. 
Other recommendations: 
Restaurant / hotel De Turbine, with (yes) inside a huge turbine, where you sit right next to while dining.
The Robberg (recommended!)
An peninsula at Plettenbergbay where you can find seals and a lot of fantastic vegetation. We did an breathtaking hike of about 9km which led us through different kind of paths, over big rocks and through colourful sceneries. It took us about 4 hours without break. 
Beaches
The coastline has many long and amazing beaches which scream for you to pay them a visit. The water might be cold and the wind... ohh but those views! Priceless!
In Addo Elephant National Park you'll be amazed, wild animals are everywhere and you can find the big five here as well. Almost any wild animal in South Africa lives in this park except for giraffes, because they are not originally from this part of the country.
There are a lot of sandroads in the park which give it that non-touristic vibe. The day of our visit was not crowded at all and the animals were quite relaxed.
The price of the park was € 35.- for a normal car, and you get a free map at the entrance.
Not only the animals were cool and really close by, the nature is amazing too. You'll find green mountains mixed with savannahs, many different bird species and even tortoises. This is our no. 1 National Park!
Our accommodation was very close to the entrance of the park. Addo Dung Beetle guest farm was an unsuspected experience. There are several cottages with outside facilities and a view to die for! The cottages are being updated this year, but for us it was already worth the stay. And only 10 minutes by car to the park!
Vrystaat is clearly less touristy and that is a real pity because there is so much to see and do. We have driven from Addo up to Smithfield and from there to Ficksburg just above Lesotho. After our stay there we drove through Lesotho to the Drakensberg area. An amazing trip with huge green mountains and rough rocky sceneries. Keep your camera ready at all times!
Our stay in the small town of Smithfield was only for one night but left a big impression. There are no tourists there so prepare for real life. Don, the owner of Jasmine cottage, and his wife Ellie do everything to make you feel at home. We slept inside the house where we had our own bathroom and a great deck.
The town is quite small and there's not a lot to do but the local bar Buckleys is great for food and drinks.
After our stay here we drove on towards Ficksburg. A dirt road of 75 kilometres, but somebody has to do it. We've put on a country music to fit the scenery and took our time. After an hour or five we arrived at another fantastic location:
Springwater cottages are located between mountains and surrounded by peace. Our luxurious cottage has two bedrooms and two bathrooms, a fully equipped kitchen and a fireplace.
Outside on the patio you can enjoy the fantastic view of the mountains and our dearest neighbour ever: Elvis the ostrich. 
The owner Anton has a farm next to the three cottages and is a great companion for a interesting conversation. Outside by the fire we talked all night enjoying a very good bottle of wine.
Looking for silence and relaxation? Here you find the Springwater Cottages website!
Our two night here were far too short but the weather wasn't great so we are moving on. Next destination: Drakensberg National Park.
Again we hit the jackpot, we are sleeping in a cave! Incunzi Cave brim of Drakensberg has an accommodation underground called Didly squad, build by the owner Steve and inspired by the many houses in Africa that are nothing more then a couple of walls and a roof. 
The inside of the cave is amazing! Your just can't stop looking at all the rarities on the walls and ceiling. From the bed you can look precisely through the window for a view over the mountains. The walls are covered with reviews of former lodgers.
Outside we use the braai for our first stake, which of course was AMAZING!
Sitting outside, don't forget to look up... We have never seen so many stars as that night, even the Milky Way showed itself really clearly. Breathtaking!
Wanna sleep in a really weird cave under the stars? Check their website here!
This small kingdom in the middle of South Africa with a surface of about 30.000 square kilometers is surrounded by a river. We were planning to stay a night here but a combination of heavy rainfall and bad roads made us decide otherwise. Instead unfortunately we only drove through this beautiful country for a few hours after the rain.
The moment we passed the border at Maputsoe near Ficksburg, we had an immediate culture shock. Poverty is everywhere... while driving we almost can't keep our eyes off the litter, the slums, people with torn clothes and emaciated cattle. After an hour we can see more of the surroundings, the mountains are beautiful and the green hills have coloured towns build against them. The nature is magnificent but it's clear that there is no money and there are no jobs. The houses have a roof, or... at least I think they all do. We pass empty supermarkets and there are almost no cars on the road. The infrastructure is quite alright in some areas but other roads are like Swiss cheese, the potholes are so big we are afraid we won't get out of them with our small car.
We've had about 7 police checks in the first 30 minutes asking for our toll-receipt, drivers license, passports and even our international drivers license. I'm sure the last officer was a bit disappointed when we said that we had one. Alright, go ahead...
So, after driving around for a few hours we leave the beauty and the poverty behind us and pass the border at Calendonspoort near Fouriesburg. 
This province has a very different, more African culture. There are some people who speak Afrikaans but most only speak Zulu and some English.
Kloof
The drive from Drakensberg towards our first stop is again beautiful. Just before we get to Kloof, above Durban people drive like madmen! 
Kloof is a small town with an enormous gorge passing through it. We stay there for only one night so unfortunately we don't have enough time to do a hike down the gorge but it is amazing just looking at it. Whoah!
For the first time we order an Uber taxi to take us to the centre where there is a nice restaurant in an old train station called Smokers, which was quite recommendable. We order a huge salad with chicken and some fries but it takes some work to empty our plates. Great place, good food!
St. Lucia
Next stop after a lot of beautiful beaches is St. Lucia. A small town between the ocean, a river and a swamp where at night hippos cross the streets to move from one place to another. 
Our hostel Monzi Backpackers is fantastic, we have a double room with shared facilities just outside and there is a large communal kitchen right next to the swimming pool with a fantastic terrace. We booked a safari with the hostel Hluhluwe Imfolozi Park, which is an hour from here. 
We had to get up at 4:15 but that was totally worth it. As the sun comes up we enter the park where all the animals have just begun their day too. We see many species but, it's very different from Addo. This too is a beautiful landscaped park with hills and a river crossing it. After a long day we drive back to the hostel thinking, was it worth it? The safari was great, you don't have to watch the road, the ranger sees so much more but the costs of € 65.- per person are still a lot of money. Compared to our do-it-yourself safari in Addo, we wouldn't book it again, but the park was fantastic and we feel privileged to have seen so many rhinos!
Unfortunately, the rhino is still threatened daily by poachers for his beautiful ivory horn. Even in the parks, 30 rhinoceros are killed every month, in this park alone!

While driving towards the south border of Swaziland we see 2,3, no 6 giraffes by the side of the road. They are eating the leaves of the trees and they are so close!
We also see impalas and warthog, for free... haha after spending all of our money in the National Parks.
We pass nine inspection posts, stamp desks and other barriers when we drive into Swaziland. We do not hate our special document with permission of the rental company to enter Swaziland, but we get in without them asking for it. That saves us about € 35.-, we'll better drive safely because without the permit we are probably not totally ensured... But anyway, yeah we're here!
In no time we approach a policeman that stops our vehicle, uh-oh, window down, passports in hand. He wants to hear the horn. MUUUUUUBBBB... Ok, you're fine, good luck! OK... and go... 
We have booked one night at a mountain camp in Shewula nature reserve. The road is dreadful and takes us forever and when we finally arrive it is three o'clock. The ladies at the accommodation have no registration of our booking, eventhough we've already paid through Expedia. That is the problem, she says. We don't get the bookings!
Uhh ok, just give us a room... nope, everything is fully booked and she can't recommend another place nearby. This is not happening. We have driven all day and now what?
We have no signal on our cellphone so we immediately decide to go and drive on to the north border and go back to South Africa, where we would be going tomorrow anyway. Just before sunset we arrive at a too expensive guesthouse with a view over the Kruger Park. We even see some elephants in the distance.
Well, this has at least one advantage... worst driving part is over. Now try to get our money back and our expenses compensated.
Finally we enter Kruger National Park! Poachers are a big problem here, even in the parks there are many rhinos killed for their ivory horn despite of the security guards, rangers and entry vehicle checks. 
After a vehicle inspection we drive into the park filled with hope and enthusiasm. We immediately see all kinds of animals as we slowly drive to our first rest camp. We have booked two nights through SanParks in restcamps inside the Kruger Park. Oh boy, we are excited!
Our first stop is Lower Sabie. The camp is really nice, it has pool and a supermarket and restaurant with normal pricing.
Our round cabin looks very African, it has a straw roof and thick clay walls. It has a table and some chairs and of course a braai.
Inside we find a double bed, a sink and a refrigerator. Basic but charming!
The next day we get up at five to drive towards the next camp as early as possible. As the sun rises we expect to see a lot of animals again, but there aren't any. We drive for hours and hours but except for an Impala and one elephant somewhere in the distance the park seems abandoned.
We make jokes about it but actually it is quite a disappointment. We do see termite hills of 2,5 meters high, and not just one... one after the other, but no animals.
Over a distance of 140 kilometres from Lower Sabie to Olifants rest camp the only animals we saw up close was a group of hyenas. This was so cool, they were walking alongside of the car first ignoring us and then looking curiously inside. Whoah!!
Olifants rest camp lies on a hill watching out over the Olifantsriver. There are some hippos down below us playing in the water so we enjoy ourselves as we drink a beer in the restaurant. The basics of the camp are similar as the other camp but our cabin now has a toilet and shower.
The next day after we left the camp we had a very close encounter with a young elephant bull. He was standing by the side of the road and he was not amused when we tried to pass him.
Although it's amazing to see we were a bit afraid of our car being attacked. 
When the big fellow finally let's us pass we drive towards the exit of the park on to our next destination. 
We've saved the best for last...
After our amazing trip through Kruger NP we have booked one night at a slightly disappointing lodge. Our cabin at Marepe lodge was very dated and therefore too expensive. There is a restaurant in the premises which was quite nice, the garden surrounding it looked like you could marry there, and a new pool to go with it. The old collapsed pool was right next to it, seemingly untouched for years. But our cabin... no.
Enough about this lodge, moving on. 
The Blyderivierspoortdam is a big dam protecting the mountain water from spreading across the country. So this region has nothing to complain about when it comes to water.
The lake between the Canyons is amazing but unfortunately boattrip for the next morning is fully booked.
The following day we drive on to Blyde which is just above Graskop. On the way we visit Bourke's Luck Potholes. An gorge with potholes (yes) and beautiful rock formations. 
We stop at an fantastic view point and then we try to take a peak through God's Window. Unfortunately we can't see anything because there is a BIG cloud in the way...
When we arrive at Thaba Tsweni lodge and safaris we are delighted. This looks good. A big cabin with everything we need, including a fully equipped kitchen. 
The owner gives us a few hiking trails of which we will do one the next morning.
We need to drive back to the Canyon and stop at Forever Resort. There we pay an entrance fee and drive on to the beginning of the trail.
We hike trail B2 - Guinea Fowl. This is amazing! We thought we've had the most incredible view at the Canyon, but this... whoah! This surpasses everything! The hike is very nice, the paths very from sand to rough rocks and it's very well indicated. First we hike all the way down between the canyons where there's a nice river and a waterfall where you can swim. The water is freezing so we just dip our feet in to cool down. After a small picknick we continue the trail which now goes back up. It's fairly tiring but the magnificent view keeps us going. After a few hours we're back at the car park. This is not something we'll soon forget... 
In the morning we bring back our car in Malelane and get a lift to the bus stop. Next destination: Mozambique! 
---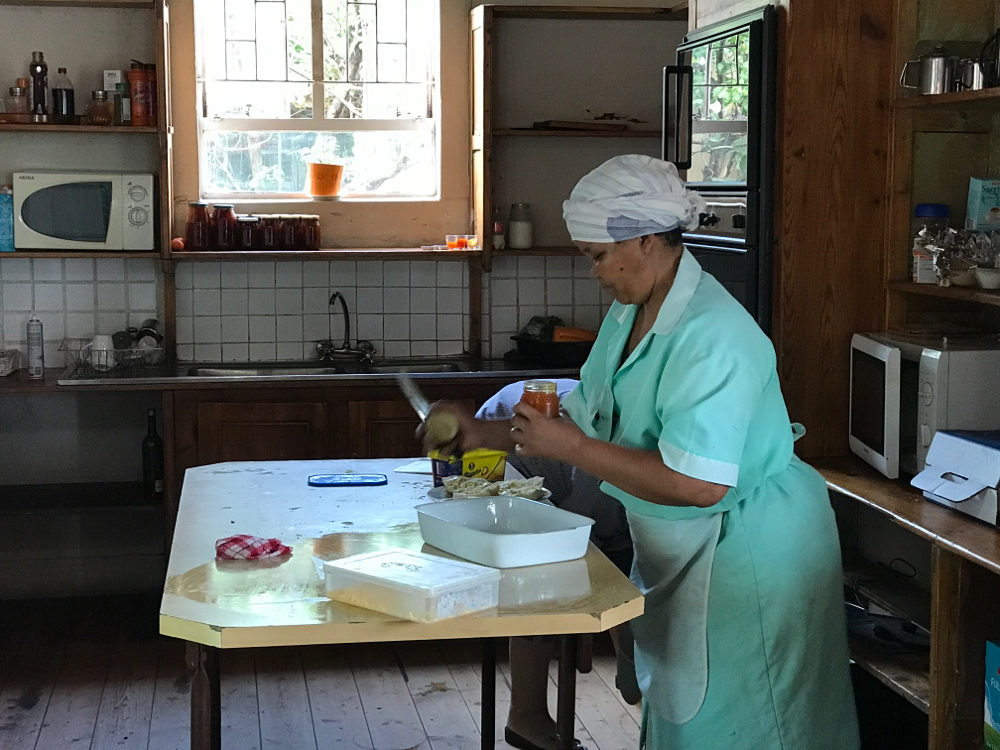 We like the South Africans!
The locals are very helpful and friendly, just enough to not get annoying. You can have good conversations with them, they are very honest and open and want to talk about everything, but we've noticed in some provinces especially in the centre of South Africa, somewhere in the conversation you'll end up talking about apartheid. Racism is an important subject of discussion here. Certainly the whites do not want to be seen as "that racist," apartheid is over. But this white South African will help us remind us that they have lived here for generations and that the farms and estates were honestly bought by the white people centuries ago.
In our opinion racism is not really alive anymore, but class discrimination is. People with money look down at the ones who have nothing. And because most people with money are white you can easily mistake it with colour discrimination.
It's a vicious circle, white people have money, always had. They get training and therefore better jobs. Black people have had no money or family capital for a long time, there was no or little education available so jobs such as servant, cleaner or garbage-man was their future. The government wants to make education in South Africa free so that it will be available to everyone. This will mean a major turnaround for the black population, which covers about 70% of all residents.
The population is predominantly Catholic and very much into the Lord. Jesus is everywhere and one is very sensitive to a "god bless you" here and there.
If you want to ask someone a simple question you'll be forced to ask how they are first. Hi how are you, I'm fine how are you? Thén you can ask your question. This gets tiring after a while especially when you notice it's just a formality and they really don't listen to your answer. Some even say 'I'm fine' before you've even asked...
But there are a lot of people who can really appreciate you asking, especially because you're a foreigner.
So, our conclusion: we love the South African people, and given our color blindness, we are smiling at everybody and we get a twice as big a smile back.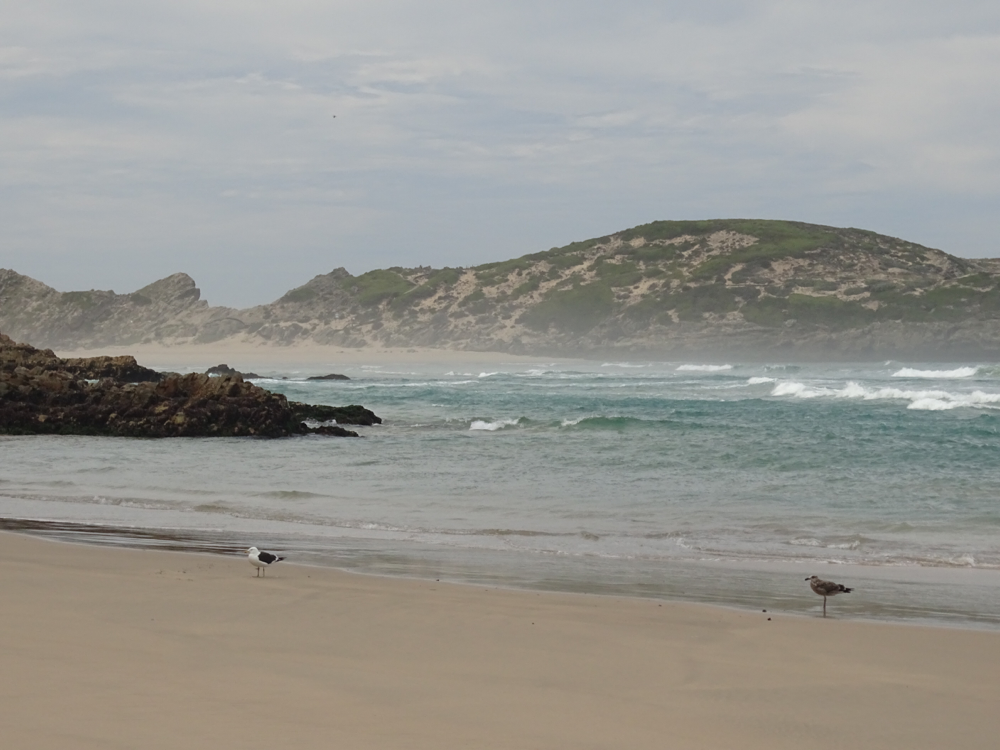 We visited South Africa from 1 to 25 April, this is the South African autumn and certainly not a high season. The weather was good but varied in each part of this big country. There were days of 10 degrees (Celsius) and a lot of wind and heavy rainfall. The next day could be 30 degrees, (very) sunny and no wind at all.

We did our hikes on the cloudy days, but the way the day starts says nothing about how it ends. Four seasons in a day is nothing new in South Africa.
It was quite cold and we had a lot of rain in the province Vrystaat and the area of Drakensberg, especially the mountains can provide a positive or negative effect on clouds. Everything is green and the showers and toilets run like a waterfall.
On the coast it was much warmer, but also dryer. 
West-Kaap and Kwazulu Natal suffer from extreme draught. It hasn't rained for a long time and the rivers are dry. Sometimes you can't even flush a toilet. 
In short, unpredictable!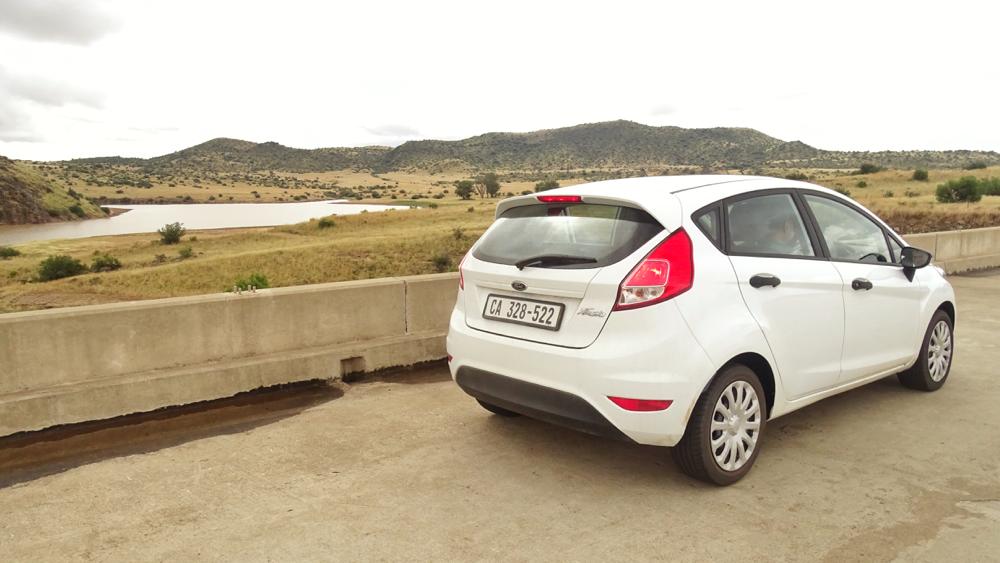 We booked a rental car well in advance at Avis 360 for 19 days. This is a rental with full ensurance and 0 own risk. We paid around € 20.00 a day including the one way fee for a totally new Ford Fiesta. 
In South Africa 95% of all cars are white. They'll give you different reasons why this is, because of the dust, the visibility or that it's cooler in the heat. Actually the white cars are the cheapest, any colour will add to the price. And: 'we like white cars'. So... that mystery's solved.
Most of the locals drive a bakkie, a pickup truck. We drove a normal car, but at some points we wished for it to turn into a big wheeled bakkie...
The main roads are well maintained and driving is quite relaxing most of the time. Though there are also a lot of bad roads, especially the smaller roads on the map are usually dirt or gravel or have enormous potholes every 20 cm. They take you about three times as long, so calculate that into your plan.
In these 19 days we've driven 3900 kilometres which took us about 64 hours.
We've found driving in this country very safe, although it does take some time getting used to the ways of passing a vehicle. Just drive on the emergency lane to let someone pass, everybody does this, it is totally normal. So even on a single lane road with a overtaking prohibition you'll never get stuck behind a big truck.
South Africa has many minivans that take you from A to B. But also bigger transport busses are available like BazBus, Greyhound and InterCape, these are companies that are quite good. The cost of these busses are not necessarily lower than renting a car and it also gives you some limitations. When traveling alone, take a bus. But with two or more, rent a car!
We prebooked the InterCape bus from Malelane to Maputo, Mozambique because at the Amsterdam airport we needed a 'return ticket'. A bus ticket was enough so we did. We paid € 15.- per person for this trip which is very expensive as it is only 80 kilometres or so. Waiting at a petrolstation in Malelane took forever but finally 2.5 hours late the bus showed up.
The train in Cape Town is good and very cheap. We paid a return ticket from Cape Town to Simons Town € 2.30 per person, which took us an hour one way.
Trains anywhere else in the country are okay, but slow and unpredictable. On the other hand they are cheap if you have the time. An example: Johannesburg to Port Elizabeth takes you about 28 hours but costs about € 6.-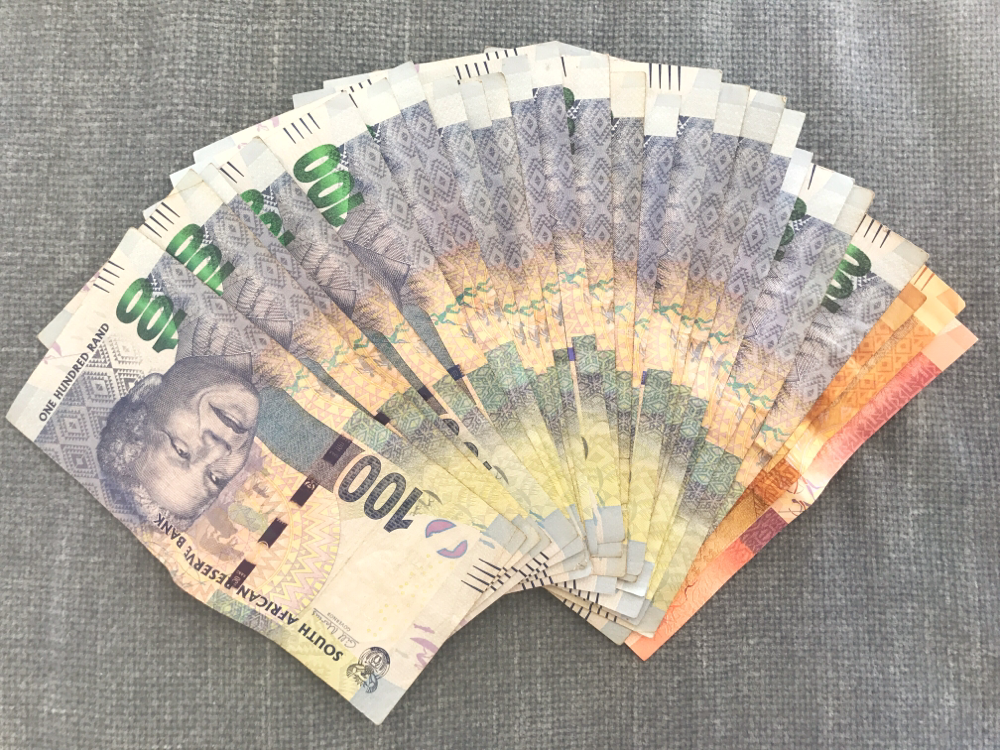 Currency: 10 South African Rand = € 0.73
In total we've spend:
Transportation and gasoline: € 634.10
Accommodations: € 993.53
Eating and drinking: € 531.15
Entrance fee: € 311.00
Other: € 45.50
That brings us to a daily budget of: € 104.80 for two persons including everything except international flights.
In these three and a half weeks we've done everything we wanted. We have visited three Game Reserves a few other parks and did one guided safari daytour. We've eaten very good meals and drank a lot of wine and beers with that ;-)
We have stayed in hostels, homestays, B&B's and more, everywhere we've always slept private rooms with private or shared facilities. We've also had an apartment or cottage a few times where we had more bedrooms and facilities than we needed.
The food in South Africa is quite cheap, especially meat! But because of the low wages the food in restaurants is not that much more expensive than home cooking. This counts for alcohol as well. We drank fantastic wines, sometimes only € 2.50 a bottle! We varied between the both, depending on our accommodation. 
Some examples of products and prices in euro:
Whole bread in supermarket: € 1.00
Sandwich in lunchroom: € 3.00
Coffee in lunchroom: € 1.50
Bottle of wine in a restaurant: € 10.00
Bottle (superdelicious) supermarket wine: € 2.50 - 7.00
Beer in a cafe: € 1.65
Can of beer (500 ml) in the supermarket (cooling): € 0.75
Meat in supermarket (500 gr steak): € 3.50
Dinner in restaurant: € 6.00 - € 10.00
Liter gasoline: € 0.90
Simcard with 1 Gb data: € 10.00
---
Check our Dutch blog for the travelblogsite of SNP reizen
here
!
While we were in this country, we've send our homefront a blog of our adventures. If you want to read this, it is in Dutch but readable for everyone with our super luxurious translator at the top or bottom of the page!
After our wonderful trip of 24 days through these impressive countries we've brought back our car in Malelane and took the bus to Mozambique!

---
---
---