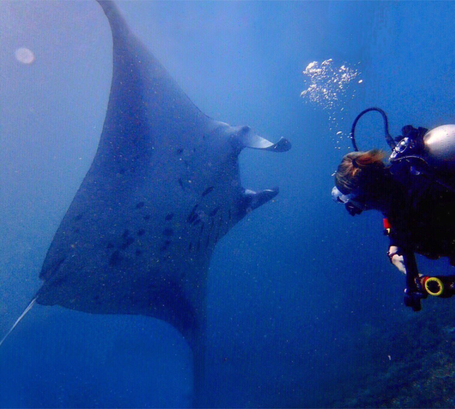 As soon as we enter Bali we immediately feel the difference with Java. No more chanting mosques, but temples and offer rituals. Beautiful Balinese houses and girls wearing shorts and no headscarf.
The island of Bali is mainly Hindu. A religion based on balance, harmony and reincarnation. Good and bad spirits make daily ceremonial offerings a bare necessity. Everywhere you look you'll find small baskets with some food and flowers. Men with rice on their forehead and women with flowers on their ears. A pleasant religion to the eye and the nose, for the ceremonies come with nice     incense.
For most Europeans the Swastika, or the hooked cross brings back bad memories and feelings but long before it was abused by some idiot in the forties, for Hindus it was a symbol of happiness. The Swastika symbolises the sun and you'll recognise it on many different places all over the island.
The well known south of Bali with tourist towns Kuta and Sanur are ok, but if you travel just a bit further north you'll find the real beauty of this island.
When we arrive by boat from Java at the harbour of Gilimanuk we get taxi offers thrown at us. We know it's only an half hour drive and we were planning to take the public bus but we are willing to take a taxi it the price is right. We are always prepared to walk away.
The driver offers us a ride for 350k (€ 22.00) we can't help but laugh and tell hem we'll pay a hundred thousand or we'll take the bus for 20k each. While laughing at us he keeps following us, a good sign. He's eager. He talks to another driver and they loudly talk about the offer we made him. Wahaha 100 thousand hahaha. We ignore them with a smile and walk on towards the bus terminal just outside the harbour. He knows he'll lose us as soon as we get there so I tries one more time. We explain we are willing to let him take us for 120k but that will be our absolute maximum. We don't mind going by bus.
He waits... a few more steps... ok, he says. Ok. 
So our nice driver takes us to our hotel in Pemuteran. We booked two nights at Mans Cottages, a gorgeous place with chique bungalows in a lush green flowery garden, a large zen-looking pool with Buddhas, pan flute music and incense. Whoahhh... chill...
Our plan was to do some diving here so we go out to talk to the divecenters and ask for some prices. Averagely we would pay € 25.00 to € 30.00 per dive including gear but we are not convinced about the divesites. There is Menjangan Island close by but the National Park fee is another € 12.50 pp. and from what we read it's not that special.
We decide to save our money and just relax at the resort. The breakfast is very ok, but the 'fruit salad' which was meant for two persons was slightly disappointing - see pic.
The beaches in the north of Bali aren't very attractive, grey sand and not much paradise around. So we'll swim in the pool and relax in front of our cottage. At night we go for one more swim before dinner. The lights in the pool are still off so it's totally dark... 
A nice restaurant we discovered is Joe's bar. The pizza was surprisingly ok for a factory made bottom and the vibe is nice. 
Our idea was to go to Amed, but the volcano Agung has been active for a couple of weeks. Already 140.000 people have been evacuated from the riskarea and the roads around the volcano are closed. The last eruption in 1963 killed more than 1600 people, so this is taken seriously. The seismic activity increases every day and the big dashes of ash are spun kilometres into the sky.
Gunung Agung will erupt, but when...
After our first stop in Bali we take the red minibus to Siririt and pay 25,000 pp. After 30 minutes we are there. In Siririt the minibuses directly to Ubud only leave early in the morning so we have to go to Denpasar first. While we wait we talk to a local guy who wants a selfie with us. In return he helps us negotiate with the driver and we can go along for 50,000 each. The big bus leaves at twelve and shows us a panoramic view over Bali all the way because we sit in the front. It's a long drive, we're not even halfway there and have already been driving for two and a half hours, but the scenery is very impressive. Beautiful ricefields and cute village pass us by until until suddenly the motor of the bus stops and as we roll down a hill it is suddenly very quiet... and the bus stops with a dead engine. Just what we needed.
The driver and two passengers open the hatch and try to fix it. After two hours a spare part arrives and we are on our way again. After another 45 minutes we arrive in a small town where we stop at a small parking only 20 kilometres from Ubud. If we stay in the bus we'll probably be in Ubud in three hours but if we find a taxi here...
We cannot believe how lucky we are when we see ONE car driving around in our Grab app. We enter the order and immediately jump out of the bus. The driver is surprised and a woman asks us we we are going. Byebye!!
The taxi is there in three minutes and takes us to Ubud for Rp100,000 (€ 6.50) in 40 minutes... phew!
Ubud is a town in the middle of the ricefields of Bali. A somewhat hippielike vibe with a lot of great vegetarian restaurants and charming bars. We were in Ubud on our holiday two years ago in a resort a little out of the city centre, but now we choose for a accommodation right in the center. Jiwa's House Homestay has a few rooms in between some local homes and a swimming pool. We get an upgrade to the deluxe room which is large and has airconditioning. We stay there for four days so with this nice upgrade we've forgotten all about today's misery.
When we arrive at Jiwa's we immediately go out to eat, because we haven't eaten since eight this morning. The first place we see as we come around the corner is Taman Curry. Not the delicious curry we expected from a curry house, but it'll do. The waitresses look like they're bored and unhappy so we don't feel motivated to come back.
The next day we take a swim after a light breakfast and  have some early lunch at Clear Cafe, a relaxed cafe-restaurant where we sit upstairs on a nice couch. An amazing coffee latte and (eventhough it's lunchtime) I order a granola, yoghurt & fruits bowl... because... I NEED IT! Yum!
Our friend Kadek who we met two years ago lives in Ubud and is now married and has a daughter. We've been in contact since we met him so now he wants us to meet his wife and daughter. He picks us up and we drive to his small house outside the centre of Ubud. The three of them live in a single room home with a little patio. His wife doesn't speak English but she's happy to finally meet us. We spend some time there and after a while he takes us back to town. What a day...
We have dinner at a Thai restaurant called Warung Siam Ubud. The Pad Thai is not what we expected, my fresh coconut is a bit sour but the Bintang tastes just as it should. Pff there goes another Rp200,000...
Our third day we go back to Clear Cafe after breakfast for that totally excellent coffee but by mistake we get a coffee with some dark thing floating in it. You ordered a Mint Coffee, right? Ieuwwww... those are mint leaves...
Three minutes later we get our coffee lattes and we are happy again.
We walk through town all morning and have a late lunch at KAFE. We should have walked away as soon as we saw the prices on the menu but we order anyway. I order a quinoa tabouleh pita with baba ganoush (unfortunately I could barely find the baba ganoush or the pita) it was a dry and ordinary salad on a very dry wrap. Jos has a very tasty pasta primavera with soft goat cheese which was totally worth it. The prices of the drinks are absurd so we just order a small water to share. A rediculously priced water in a fancy green glass bottle that tastes just like any other water. We pay Rp150,000 for this lunch, which for Ubud is normal but for us it's a lot...
Eventhough there's so much beauty to see around Ubud we spend our days in Ubud walking around town and we enjoy the Western food. Raw salads with all kinds of seeds and sprouts combine perfectly with the Balinese coffee and healthy juices. We are in heaven. And broke.
After trying a lot of cool places, the best food we had was right next door. At Warung Krisna we have the best Tempeh Saté, Gado Gado and a delicious noodles! 
From Komodo we fly back to Bali and decide to stay in Sanur for a few days before we take the boat to Lembongan. Our visa will expire in less than two weeks so we still have enough time to visit some other places. One of our bags is in the storage so we travel extra light.
We choose to stay in an accommodation in the southern area of Sanur. It's a little less touristy here but there are still enough bars and restaurants to enjoy ourselves at night.
We stay at Ngetis resort, a typical Balinese guesthouse with a nice quiet green garden and a small pool. The rooms are very large and there is a big kitchen where we can cook our own meals. Nearby there are a few supermarkets where we get some breakfast and lunch groceries.
We need to go to a dive shop on the other side of town and the owner of the guesthouse is kind enough to lend us his scooter for an hour so we don't need to rent one. 
Sanur is a nice town, much more easygoing then Kuta. We find the beaches are very ok and especially around the main street Jalan Danau Tamblingan you'll find a lot of nice diners and shops.
We book two tickets to Nusa Lenbongan with Perama. We pay Rp150,000 pp one way. This is by far the cheapest option because they'll easily let you pay double at the jetty.
Going to Lembongan from Sanur the cheapest option is to book with Perama Tours. We book an open return ticket and pay Rp150,000 (€ 10.-) per person each way by PayPal. Our emailed voucher says where we need to be at what time. We have to go to the Marlin office by the beach, it's a little hard to find but people around are very helpful. The regular prices at the office are about double so don't buy them there! The boats of Marlin fast boat go three times a day to Lembongan and three times return. We booked the morning boat of 10 am which takes about half an hour. The sea is quite rough and people around us are very quiet all of a sudden. 
When we arrive in Mushroom Bay we need to exit the boat and wait for a car that will bring us to our hotel. It's incredibly hot and it's seems to take forever before the car arrives.
At our hotel, Putra 7 in the north part of Lembongan there is a great pool and a luxurious cottage waiting for us. We are in luck, the hotel is building a few more room and therefore lowered the price 50% as a compensation for the inconvenience. We pay € 20.00 per night including breakfast. The construction doesn't bother us at all, the don't use machines and only work a few hours a day. Nice! Besides diving all we do is relax by the pool and swim a few times a day.
We walk through town to visit some dive centres. There's a new one on the beach but nobody's there and the next one is a little too eager to sell us a trip.
The third is just what we were looking for. It's a French owned shop with new equipment and attractive prices.
We meet our guide Max that will take us the next day and we have full faith it will be fantastic. We pay Rp500,000 per dive per person.
Next morning we arrive at the dive centre at 7 am where our equipment is waiting for us in our size. We get some seasickness pills because they expect the waves to be rought. There are ten people on the boat and only Jos and I with our guide Max. 
We go to the north of Nusa Penida, where the corals are amazingly colourful and healthy looking and the fish are incredible. Max shows us a lot and after an hour in strong current we go up to the boat with a big smile. Our second dive only gets better, we not only see many fishes, but three beautiful turtles at close range and a big Mantis Shrimp. 
Our third is a weird one, a high speed drift dive along a path of amazing looking gems. After only 18 minutes we are at the end of the ride and need to go up otherwise the down-current will suck us into the deep. What a ride!
The next day we go diving with French Kiss Divers again. Today we go to the south where we hope to see the Mola Mola. A huge weird looking sunfish that can only be found here and in the Galápagos Islands.
To our big disappointment we do not see the Mola Mola and eventhough the corals were lovely, the 21 degree water temperature was not at all relaxed.
Secondly we go to Manta Point, famous for it's cleaningstation where the Manta Rays come to let the small fishes do their cleaning services. It's a short swim against the current but once we're there we are stunned. Four, five, six huge Manta Rays fly right over our heads like spaceships in slow motion. We cannot believe our eyes. They keep coming back and come closer and closer. The sea is rough and the surge moving us back and forth is quite strong. We hang there in between some rocks looking at the incredible documentary of the Manta Ray. Unbelievable!!
After this dive we would never see the world the same again. This is such a fantastic end of three months in Indonesia...
When we leave Bali for a few days we leave one of our bags with our hiking shoes and warm clothes behind for a few days. Mark and his wife Ni Luh have a safe storage in Kuta where our bag will be well taken care of for these 11 days, we pay Rp200,000. We meet Mark at the Denpasar airport where we get a ticket and down payment receipt. 
After visiting Komodo and Nusa Lembongan we pick up the bag in Kuta where we stay for a few days before flying to Australia.

Kuta it self is only a small town, but for comfort everyone calls the whole area 'Kuta'. It's a busy, noisy and very touristic area. We've booked a room at the Hotel Terrace close to Legian Street, a very busy street in the area. Our hotel is on the northern side of the street which is still 'normal' opposite to the southern (dodgy) end where you can find many loud clubs and drunk Aussies.
Between the tourists we luckily find some traditional Bali. And to our relief we find a great biological restaurant California Burgers & Barbers where the music isn't deafening. We eat there everyday, the meals are well priced, the small street is quite calm ánd it's got a barbershop next door... of course the burgers are good but the chickpea salad is fantastic.
It's might sound disappointing, this is all you've done?! Hang around at the pool and eat? Of course not, we've seen some beach, walked around the unattractive town and for the first time in my life I had a tattoo done... owyeah, so freaky. But I thought where else to do it then on the island of the skin ink, the home of the tattoo, Bali. A bit unfortunate that we where not enjoying Kuta that much, but it would be a great finish to our three months in this mostly beautiful country.
After a thorough investigation (there must be a thousand Tattooshops in Bali) I choose 'Be No Square Bali', a tattoo shop just outside the Kuta area with only women tattooing. Not that that matters but, ah well, women are just so precise ;-)
Anyway, they use vegan ink, have a sustainable ideal and an incredibly clean shop. The exceptionally talented lady worked for four hours on this life changing symbol on my skin and the result exceeded my every expectation! 
So, that was it. No more swimming in the pool for me... we can go now. Australia here we come!!
---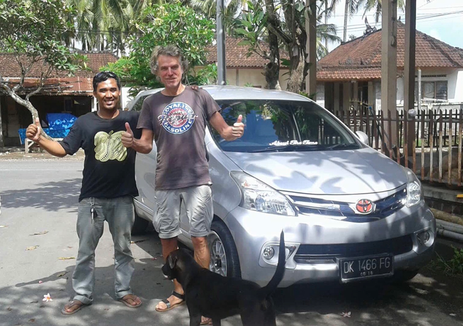 Getting around in Bali is not always easy, especially as a tourist. The taxi prices are high and the public busses are slow. Is can easily take you an hour to drive 20 kilometres. Beautiful mountains and hills ensure a pleasant view but also slow you down. The roads aren't that good but all of this has it's charme on a relatively small island like this.
Our sweet friend Kadek is happy to drive you around his beautiful island and will tell you all you need to know about the scenery, towns and his culture. His daily fee is 500.000R which is about € 30.00. As soon as you get around Bali you'll see this is a great price and you'll get a sweet English speaking guide too! His (WhatsApp) number is: +62(0)81999428241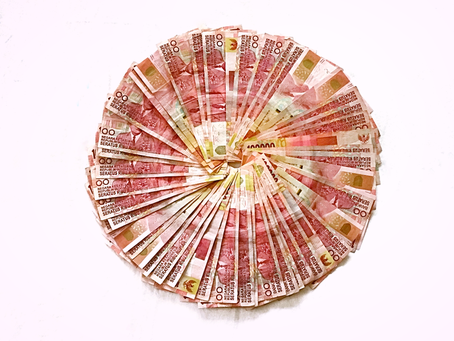 Currency: 10.000 Indonesian Rupiah = € 0.64
In these 16 days on Bali and Nusa Lembongan we've spend:
Transportation: € 104.00 (including ferry from Java)
Accommodations: € 288.00
Food and drinks: € 281.00
Entrance fees: € 0.00
Other: € 23.00 (11 day storage for one backpack)
That brings us to a daily budget of: € 43.50 for two persons including our trip to Nusa Lembongan, excluding international flights and diving activities.  
On Bali everything is overpriced and it's hard to find a restaurant with 'normal' Indonesian prices. We've stayed in a double room with private bathroom, pool mostly including breakfast. Despite the high costs we managed to stay close to our € 40.00 daily budget. 
Here are some examples of products and prices in Euro:  
White bread in supermarket: € 1.25
Coffee latte in a lunchroom: € 1.90
Beer (650 ml) in a cafe: € 3.50
Beer (650 ml) supermarket: € 2.00
Coca Cola in restaurant: € 1.50
Fresh fruit salad in restaurant: € 3.50
Fried noodles in restaurant: € 3.50
A banana in a supermarket: € 0.35
An apple in a supermarket: € 0.90
---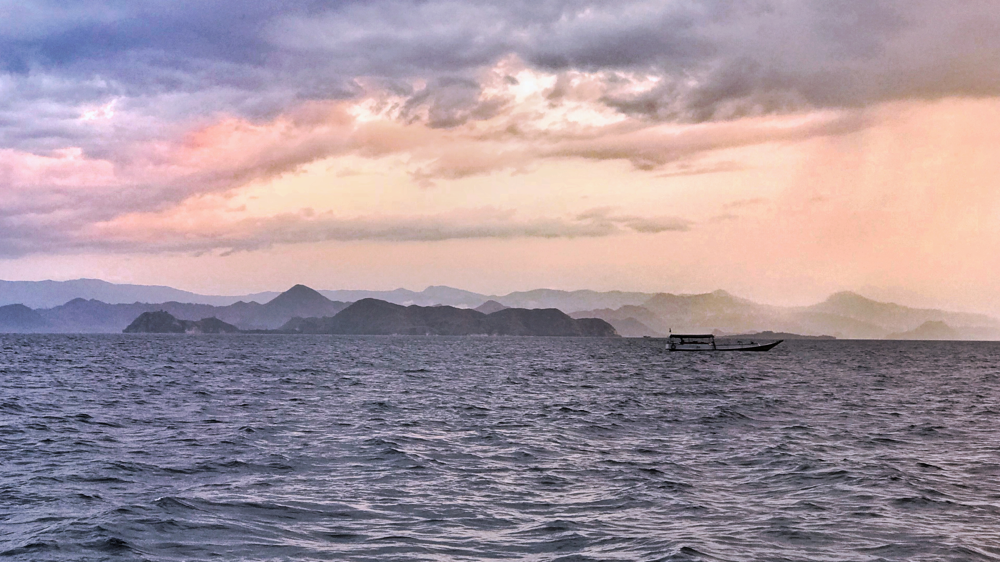 ---